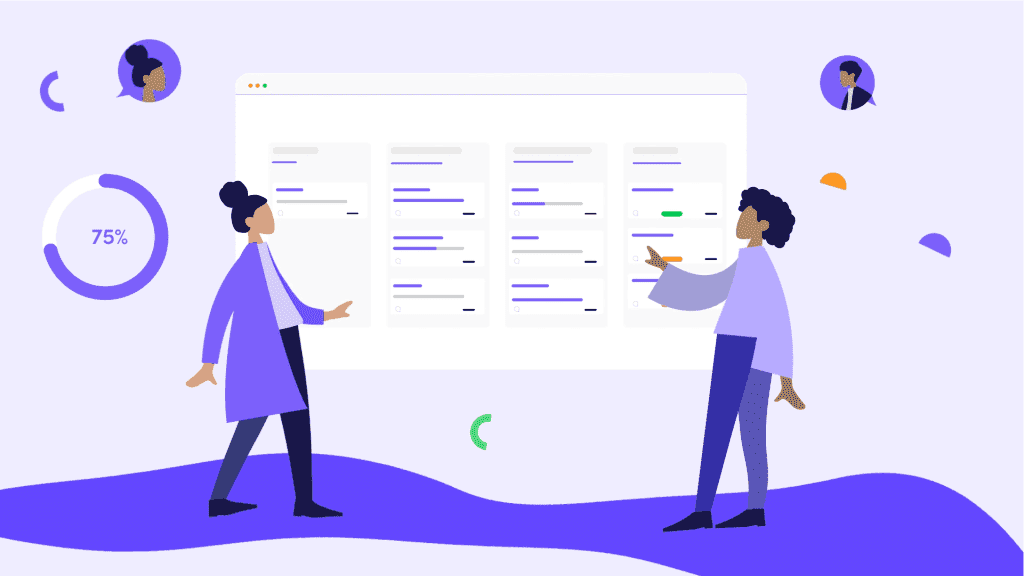 Statistics on B2B lead generation
Here are some recent statistics that can assist you in visualizing your data and building an effective video marketing strategy for your business.
1) 61% of video marketers believe their top priority is to generate traffic and leads.(Hub Spot)
The statement is true because the majority of people are creating videos to measure their results and share stories and solutions effectively. However, it raises a question about why the remaining 39% are hesitant about using video as a tool for achieving their goals. Nevertheless, the key takeaway is that effective storytelling through video is a powerful way to connect with the audience and achieve the desired outcomes, and it is important to apply this approach in a SMART manner.
2) Only 4% of site visitors are ready to make a purchase.(Marketo)
With only four percent representing traffic that goes straight to the bottom of the funnel, it may seem like a dramatically low number. However, it's important to remember that the other 96 percent are still in the early stages of discovery and exploration. This provides an opportunity to focus on your lead nurturing skills. To improve conversion rates, make sure your website is clear about where you want visitors to go and what actions you want them to take when watching your videos. By doing so, you can speed up the process of converting those leads into customers.
3) 88% of B2B marketers use content marketing as a lead generation tactic.(ContentMarketingInsitute)
Instead, you will need to find ways to turn your video content into an effective strategic sales tool.
4) Inbound marketing generates 3x more leads than outbound marketing but costs 62% less.(ContentMarketingInsitute)
These lead generation statistics are advantageous for video content marketers in every aspect. Your audience will receive what they expect from you, and a 3x increase in leads will also provide you with additional time to generate content that supports the sales funnel. However, you must have the appropriate video content to determine the optimal experience.
5) Marketers who reach web leads within 5 minutes are 9x more likely to convert.(XANT)
Interacting with website visitors when they are most receptive is crucial in turning them into leads. This can be achieved by various means, such as utilizing explainer videos to effectively communicate your message, as well as implementing a streamlined process for promptly responding to online inquiries. Meeting your visitors where they are and when they need you the most can make a significant difference in generating leads for your business.
6) 80% of customers believe that the experience a company provides is just as important as its products and services.(Salesforce)
A well-designed website, coupled with effective video marketing and excellent customer service, can greatly influence the user experience, regardless of whether a lead is generated or not. It is crucial to ensure that your content is consistent and memorable in order to achieve the best possible business outcomes.
7) 46% of marketers with well-planned lead strategies have sales teams tracked over 75% of new leads.(Strategic)
Modern users tend to go through most of their journey on their own, but if they do reach out to your team or express interest in some way, having dedicated individuals to assist them can expedite the process of getting them closer to their goal.
8) 90% of customers say that video helps them make purchase decisions, and 64% of customers admit that watching a video increases their likelihood of buying.(Forbes)
Provide your users with the video content they need to make informed decisions. Begin creating these videos immediately by utilizing this brief list of videos to enhance your marketing efforts.
9) Using a video on a landing page may increase conversions by 86%.(Eyeview)
The size of videos on landing pages is usually large, yet they can increase conversions by 86%. This is a surprising but impactful statistic.
10) Marketers who focus on blogging are 13 times more likely to receive a positive return on investment.(Hubspot)
Despite the popularity of blogging as a lead generation tool for many years, it's not necessarily the end of its effectiveness as a marketing tool. However, the emergence of video blogging is an important word in recent statistics. Marketers who invest in developing and nurturing their video tactics are still making significant profits, including generating new leads.
The difficulties associated with generating leads in a B2B context.
In addition to the significant potential indicated by the above statistics, there may also be various challenges to consider when implementing video marketing for B2B purposes.
Evaluating the demand of the market.
Evaluating your market and potential opportunities involves investing significant time and resources to determine if it aligns with your business. Specifically, when it comes to video content, it's crucial to understand your target audience's communication requirements and the potential market opportunities.
Finding the appropriate approach.
The insightful statistics on video marketing and other content-related data provide the foundation for selecting the best approach for strategy and execution in your upcoming campaign. It is crucial to plan your budget for the end product.
Creating the necessary physical and organizational framework.
In order to ensure development and establish necessary physical and organizational conditions and facilities, it is important to choose a reliable solution when implementing your strategy. To create effective lead generation opportunities for your business, you must also make decisions about which tools to use, how to measure success, and much more, all of which should be taken into consideration.
Now, you may be wondering what constitutes a good lead generation percentage. Although lead conversion rates can vary depending on the industry and device type, a good average conversion rate for an average webpage is about 2.4% globally.
However, a lead gen landing page can have a conversion rate of around 4%, which can be further increased by incorporating an outstanding video explainer.
Conclusion
Lead generation is a crucial aspect of a successful business, and there are numerous tools available today to attract and convert new leads.
Explainer videos are one such tool that can be utilized for this purpose. The variety and complexity of video content marketing and its usage by marketers can be observed from the statistics presented. These statistics may have inspired you to come up with new and exciting ideas for your marketing channel.
If you have any further questions, you can always consult our video connoisseurs, who can provide you with great video explainers on any topic.